What They Say:
Cast a magic spell right before your eyes.
With the wave of a magic wand, create the never-ending lashes you've only dreamt about. The revolutionary design of Magic Wand Brushless Mascara allows you to individually coat each lash one at a time from every imaginable angle for fuller, longer-looking lashes. It also works magic when layered over your favorite mascara for added volume. The overall effect is like wearing false eyelashes
My Verdict:
Finish: 5 out of 5.. stays on all night !! no panda eyes !!
Consistency: 5 out of 5.. ultra smooth consistency !!
Ease Of Use: 5 out of 5.. just like an ordinary mascara.
Price: 5 out of 5.. affordable !
Overall: 5 out of 5
This is my HG mascara ! I've been meaning to write a review about this little magic stick awhile back but just didn't have time. At first I was sceptical.. I mean who would've heard of a brushless mascara?? Isn't revlon/covergirl etc. always trying to come up with ways to improve their mascara brushes?! Well don't let the "brushlessness" scare you !! This mascara is absolutely magic !! It makes my lashes super thick, super long !! It really does deliver ! and best of all it is easy to apply and to remove !! I absolutely testify that you will have no panda eyes by the time your night at casino ends !! I love this mascara and best of all its mineral based so its also good for your lashes !! Apart from making you look like you have doll eyes the consistency of this mascara is very smooth.. no clumps at all.. beautiful and very light on the eyes it won't make your lashes feel "heavy" and at $32.99 (@ myers & djs) wouldn't you want to buy it too?!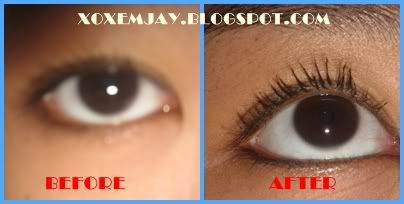 I hope my before and after pics show how lovely this mascara is !